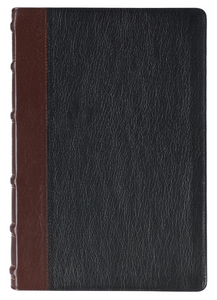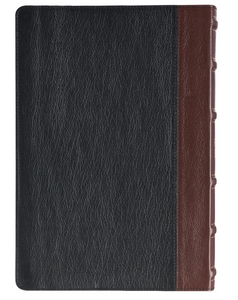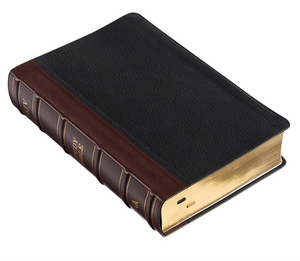 Black and Burgundy Full Grain Leather Large Print King James Version Study Bible with Thumb Index
Regular price
Sale price
$119.99
---
Strengthen the spiritual discipline of studying the Bible and family devotions when you use the
Black and Burgundy Full Grain Leather Large Print King James Version Study Bible with Thumb Index
. This updated study Bible features the classic KJV text with thousands of study notes in large print.
The Bible is covered in a smooth full grain leather black front and back panels joined by a burgundy full grain leather spine that holds the gold foiled KJV version reference, title, and elevated spine ribs accented by gold foiled bands.
KJV 
Holy Bible
Gilt-edged page edges complete the elegant exterior design. The interior pages are printed in black ink and accented with metallic gold decorative accents. The sturdy construction includes a lay-flat spine, two satin ribbon markers, and a thumb index. Double-column formatted text is presented in an 11-point type.
The Bible also acts as a record keeper. It includes a presentation page that can be personalized, a wedding certificate, and a family record that provides for marriages, births and adoptions, and deaths. An additional record-keeping page is dedicated to occasions to remember.
An entire section is dedicated to the history of the KJV, focusing on its tradition, text, and translation.
Study features include an introduction to every book of the Bible and personal or family devotions at the end of every chapter, thousands of explanatory study notes on the text and the archaic language, essays on 50 key teachings of the Bible, a concordance, and 8 full-color maps. There is also a section dedicated to living the Christian life that covers 37 essays.
A further interesting feature is the brief synopsis of twenty centuries of church history followed by a section on creeds catechisms and confessions. This section includes the Apostles' Creed, Nicene Creed, Athanasian Creed, Belgic Confessions, Heidelberg Catechism, Canons of Dort, Westminster Confessions, Westminster Superior Catechism, and the Westminster Larger Catechism.
Wrap this Bible as a Father's Day gift for your favorite dad! With its large print, historical insights, topical essays, and thousands of study notes, the
Black and Burgundy Full Grain Leather Large Print King James Version Study Bible with Thumb Index
will grow his knowledge of Scripture.
Black and burgundy full grain leather cover 
Gold-foiled title
King James Version 
Large print 
Interior pages printed in black ink and accented in metallic gold ink
2 ribbon markers 
Lay-flat binding 
Presentation page 
Marriage certificate 
A family record that includes marriages, births and adoptions, and deaths 
Occasions to remember page 
History of the KJV 
Introductions to each book of the Bible 
Personal or family devotions at the end of each chapter 
Essays on 50 key teachings 
Thousands of study notes 
37 essays on how to live as a Christian 
Historical overview of Christianity covering 20 centuries of church history 
Ancient creeds, confessions, and catechisms 
Daily Bible reading plan 
Concordance 
8 full-color maps 
2148 pages 
Double-column format 
Text: 11-point font size 
Size: 10.7" x 7.4" x 2.2" (272 x 188 x 55 mm)