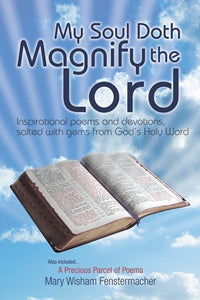 My Soul Doth Magnify the Lord
Regular price
Sale price
$13.95
---
Do you sometimes feel that you are at the top of the world? Are you amazed at the beauty surrounding you in God's majestic creation—the sky, the mountains, the valleys, and the rivers? Does the rush and roar of the ocean waves tingle through your whole being as you watch and listen?  Does the coming of the seasons—Thanksgiving, Christmas, and Easter--arouse your senses and awaken your joy of anticipation? These are some of the feelings and experiences expressed in the poetic verse found in this collection of inspirational poems and devotionals. Poems such as "Morning's Dawn," "Autumn Song," and "Evening at Sunset" will take you to those quiet moments of peace and serenity that everyone needs along the way.  "Seascape" and "Seashore Symphony" will remind you of the mighty powers our great Creator wields over the universe.
Mountaintop experiences, however, are not the everyday diet of human experience. Sadness, pain, illness, frustration, and disappointment pepper mankind's daily existence on a much greater scale.  Such poems as "Be Strong," "Hold Fast," "A Pilgrim's Prayer," and "Heaven" speak to the heart and soul of human agony and distress. There is hope!  It is found in the Savior of humankind … the Creator of the world … the friend that sticketh closer than a brother.  That hope is found in Jesus Christ—Immanuel, God with us!
Filled with pertinent Scriptures of timeless wisdom and comfort, this book of poems and devotionals is designed to lift your spirits during any day or season. 
Join the author as she magnifies the Lord with Scripture and poetic verse!
"I will bless the Lord at all times: His praise shall continually be in my mouth.  My soul shall make her boast in the Lord: the humble shall hear thereof, and be glad. O magnify the Lord with me, and let us exalt His name together."
 —Psalm 34:1–3